Sandy Snow President Elect
President-Elect Candidate Page | Scott Kidder | Sandy Snow
Sandy Snow's curriculum vitae in PDF form
---
Sandy Snow's Candidate Statement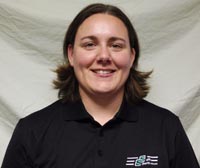 I am humbled and honored to run for the position of President-Elect. I have had the privilege of serving the NHATA in many different capacities since entering the profession and I aspire to serve the membership at a higher level.
My past experience serving the NHATA membership includes volunteering at the Northern New England AT Conference (NNEATC) 2014 and 2017, and serving on the NHATA Golf Fundraising Committee since its inauguration. Although I assumed various responsibilities in each role, the goal remained the same – to provide the best experience and outcome for our membership.
If elected, my goals are to address networking and collaboration among NHATA certified and student members in addition to allies, continue exploring ways in which the NHATA can give back to the membership, and continuing initiatives of past Executive Boards.
It is no secret that a unique characteristic of our profession is that we are interconnected. It is important that we as an organization find ways to nurture those connections, whether they are certified member-certified member, certified member-student member, or member-non-member relationships. Uniting our membership on a foundational level will help to increase awareness of the profession and qualifications as athletic training professionals, as well as enhance fundraising efforts to be able to establish ways to give back to the membership.
Another important aspect of our organization that should have more attention is student involvement. While many NHATA certified members are mentoring the future generation of athletic trainers in clinics and on sidelines, I believe there is more the NHATA can do to foster student maturation. If elected, a goal of mine would be to collaborate with educators and preceptors to identify avenues for students to increase their exposure to professional involvement and responsibility. In turn, this exposure will provide our future athletic trainers with a more well-rounded experience and sense of professional service.
My past professional experience working in human services has contributed to my candidacy for this position in many ways. Being able to listen AND hear are just a couple examples of the skills I developed during these experiences that are readily transferable to this position. It is important that we listen to and hear the opinions and values of NHATA membership to develop an effective and meaningful strategic plan. I look forward to working with the membership and, if elected, I am committed to helping our organization continue to move forward and serve as a model for other organizations regionally and nationally.
Sincerely,
Sandy Snow MS, ATC, N.H.LAT