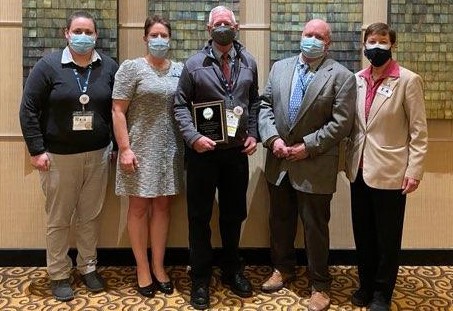 Left to right:  Sandy Snow NHATA-Past-President, Diane Sartaniowicz District 1 President, Cliff Chulada 2021 NHATA MDAT, Len Angelli NHATA President and Linda Levy EATA President
January 8, 2022:  Cliff Chulada has been awarded the 2021 New Hampshire Athletic Trainers' Association Most Distinguished Athletic Trainer award.  Chulada was presented with the award during the New Hampshire Athletic Trainers' Association members meeting held in conjunction with the 74th EATA Annual Meeting and Convention.
"Cliff is an outstanding advocate for youth athletic healthcare and wellness and served as a secondary school athletic trainer and physical education teacher for over 35 years. Most of his career was spent in New Hampshire. Cliff received various accolades over his career for his dedication, including the NATA Servant's Heart Award (2019), Gatorade Secondary School Service Award (2009), Training and Conditioning magazine's Above the Call Award for AT (2004), Athletic Management magazine's Award of Excellence for high school AT (1999), American Athletic Trainers' Association Athletic Trainer of the Year
(1994), and special recognition from the School Board of Broward County, FL for using CPR to save a spectator's life (1990)."
"Cliff is a professional in every manner. His thirst for knowledge and professional development keeps him on the forefront of the ever changing world of athletics and sports medicine. He pours himself into research to ensure that he knows the latest and most cutting edge treatments available to his athletes. If he cannot provide a treatment, he knows where to send his athletes for the best treatment in the area."
The New Hampshire Most Distinguished Athletic Trainer of the Year Award recognizes a certified and licensed member of the New Hampshire Athletic Trainers' Association for their outstanding contributions to the profession of athletic training. All certified athletic trainers in the state of New Hampshire are invited to submit nominations for the New Hampshire Athletic Trainer of the Year Award. Sponsoring nominees are required to inform the nominee of the nomination.  Nomination are to be submitted by October 31st of the calendar year.
NHATA Most Distinguished Athletic Trainer of the Year Nomination Form.
To learn more about NHATA awards and how to nominate deserving candidates please visit https://www.nhata.org/awards-and-service-opportunities/awards/.