Scott Kidder President-Elect
President-Elect Candidate Page | Scott Kidder | Sandy Snow
Scott Kidder's curriculum vitae in PDF form
---
Scott Kidder's Candidate Statement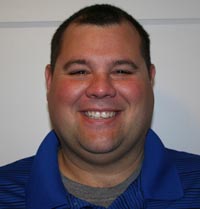 Greetings NHATA Members,
My name is Scott Kidder and I am honored to be nominated for the office of President Elect of NHATA. If elected to this office, it is my intention to promote the profession of Athletic Training within the State of New Hampshire and fight to protect the integrity of our members. I dream of a day when every school in New Hampshire that has an athletics program, has access to an athletic trainer, and I believe that with education of school officials and the general public, we can make that dream a reality.
I currently work as an outreach athletic trainer for Granite State Physical Therapy. I am a New Hampshire native, and completed my undergraduate degree in Kinesiology with a focus in Athletic Training at UNH in Durham in December of 2005. I worked at Plymouth Regional High School for a year before moving with my wife to Terre Haute, Indiana so she could attend graduate school at Indiana State University. I worked for two different hospitals in Terre Haute, fulfilling their contracts for athletic training coverage of Terre Haute South High School. After moving back to New Hampshire in 2013, I was hired by Granite State PT, and was assigned to Gilford High School.
The biggest thing I noticed after moving back was the lack of qualified medical personnel covering some of the smaller schools in New Hampshire. I feel that as a profession, Athletic Trainers are always the ones behind the curtain, making everyone else look good, sometimes to our own detriment. We need an association that is on the front line, shouting, "Look what we can do!" We as an association should be going to these schools and explaining the benefits of having an Athletic Trainer on staff.
I think that I am qualified to be your president elect because I have the drive and passion to lead. I listen to others around me, and that gives me a better sense of what is working and what needs to change. I want to serve this association, I want to listen to your concerns and work to make everyone better. Thank you for your time.
Sincerely,
Scott L. Kidder, BS, ATC, N.H.LAT