Christine Reyes – Candidate Treasurer
Treasurer Candidate Page |Christine Reyes
Christine Reye's curriculum vitae in PDF form
---
Christine Reye's Candidate Statement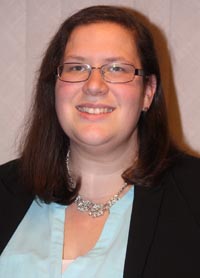 I am excited to accept the nomination of treasurer of the NHATA, as it represents my first opportunity to give back to the athletic training community at the state level and begin, what I hope, is a long career of leadership experiences in our profession. My interest in this position aligns well with my undergraduate leadership experience as well as masters and doctoral education. I feel prepared and equipped to lead the NHATA community in this role, if selected.
Throughout my time within the profession, my main interests have been the successful transition of athletic training students into practitioners who persist within our profession. This intrigue propelled me through a Master's degree in Leadership Development and has been the main research motivator as I complete my Doctorate of Science in Health Science with a concentration in Athletic Training. As our profession begins the transition as outlined by the CAATE and the Strategic Alliance, the continuance of our students and young professionals becomes more and more imperative. I am invested in topics and programs that enhance our membership and would continue to do so in this role.
I have worked diligently and consistently to lead in every role or leadership opportunity I have been provided thus far, and will continue to do so for the membership of the NHATA if selected to this position. I appreciate the opportunity to speak into my intention to serve, and hope the membership see and value the potential I can bring to our executive board. I appreciate the nomination and welcome any additional questions at your convenience.
Regards,
Christine D. Reyes, MA, ATC, N.H.LAT