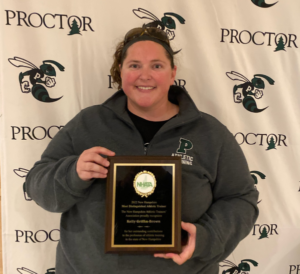 Kelly Griffin Brown - Most Distinguished Athletic Trainer
The 2022 NHATA Most Distinguished Athletic Trainer award winner is Kelly Griffin-Brown.  Kelly is a long serving member of the NHATA and is the head athletic trainer at Proctor Academy.  In addtiona to these responsibilities Kelly serves as a Sports Medince Concepters instructor.
Sports Medicine Concepts Instructor:
Instructed emergency injury management training to varying levels of athletic trainers utilizing the CORE4 curriculum that demonstrate emergency action plan essentials.

Provided various emergency scenario simulations with critical care debriefs for optimal performance with the following NFL teams: Philadelphia Eagles, NY Jets, Tampa Bay Buccaneers, Jacksonville Jaguars
Kelly in the words of her nominators.
"Kelly is a collaborator and plays an active role in the Lakes Region athletic training group. She strives to remain cutting edge in all aspects of athletic health care. More importantly, she actively brings other athletic trainers up by asking thought-provoking questions and offering benchmarking services for other Lakes Region boarding/prep and public high school athletic trainers. She also organizes and invites other NH athletic trainers to emergency preparedness trainings (e.g., emergency preparedness on ice) throughout the year."
– Sandy Snow NHATA Past-President
"Kelly,
mentors students at Proctor Academy who have an interest in studying sports medicine in college, serves as an effective mentor and preceptor to athletic training students and is an important contributor to the group of athletic trainers of Lakes Region Athletic League schools, frequently organizing training and practice sessions to help athletic trainers prepare for traumatic situations that may occur during athletic contests. 
Beyond our athletic league, Kelly engages in outreach to local Emergency Medical Response teams."
– Gregor Makechnie AD Proctor Academy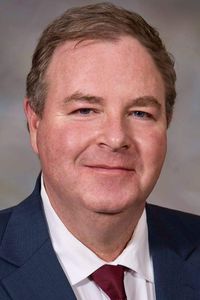 Bill Gannon - Service Award Winner
Senator William "Bill" Gannon is the 2022 NHATA Service Award winner.  Senator Gannon represents NH District 23 and serves as Vice Chair of the Judiciary Committee and Vice Chair of the Commerce Committee.  Senator Gannon was the prime sponsor of the legistration that ultimately became SB-148 part III an act Requiring emergency action plans for sports related injuries.  When SB-148 part III became law on September 1, 2022, New Hampshire moved from 46'th to 5th on the Korey Stringer Institute's State High School Sport Saftey Policies Rankings.
Senator Gannon from his nominators:
"Senator Gannon introduced and served as the prime sponsor for SB148, Part III, which included provisions to establish comprehensive emergency action plans for sports related injuries in the scholastic arena. This important legislation was adopted by the House, Senate and signed by Governor Chris Sununu on August 10, 2021."
– Tom Prasol NHATA Lobbyist
"New Hampshire is now a safer place for young
athletes to participate in school-sponsored activities because of Senator Gannon's commitment to pass SB 148, Part III."
– Sandy Snow NHATA Past-President
"…the bill mandates 5 major areas of athlete health and safety. 
emergency action plans, 

preparticipation exams, 

cold water immersion for heat stroke treatment, 

WBGT meters, and 

heat acclimatization policies. 
In our work of tracking and supporting states high school sport health and safety efforts we believe that this is the largest
singular bill for athlete safety. This one bill put New Hampshire within the small company of a few other states that have prioritized athlete safety to this degree."
– Rebecca Stearn COO Korey Stringer Institute