2017 Northern New England Athletic Training Conference
The NNEATC is a joint venture between the New Hampshire Athletic Trainers' Association, Vermont Association of Athletic Trainers, and Maine Athletic Trainers' Association to provide an affordable continuing education opportunity to their membership as well as all athletic trainers in District 1.
Target Audience: Athletic Trainers
Dates: June 16 and 17, 2017
Location: Falls Event Center
21 Front Street
Manchester, NH 03102
CEUs: Eligible for up to 9 Category A CEUs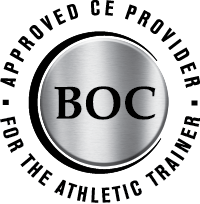 The NHATA is approved by the Board of Certification, Inc. to offer continuing education for Certified Athletic Trainers.
Registration:
NATA-Member Early Bird $150 (post-May 30, 2017 $200)
Non-NATA Member Early Bird $200 (post-May 30, 2017 $250)
NATA Hall of Fame/Retiree $0 (post-May 30, 2017 $50)
NATA-Student Member* $75
Non-NATA Student* $125
*Students must present valid Student ID at check-in.
Registration includes:
Dinner Friday, June 16
Lunch Saturday, June 17
Access to conference compendium
Refunds and Cancellation
End date for refund/cancellation date is May 30, 2017. Cancellations before May 30 will receive a refund minus 20% of registration cost. After May 30, 2017, refunds will not be given. All requests for refund/cancellation are to be made to support@nhata.org

Schedule of Events
Friday June 16, 2017
11:00 am – 1:00 pm Registration for attendees
12:50 pm – Welcome – NHATA President Ben Towne
1:00 pm – Jay Myers, PhD – Decreasing Head Impacts in American Football – HuTT® Research and Head Impact Sensor Technology
2:05 pm – Christie Hudson, PT, DPT – Physical Therapy Management of Post-Concussion Syndrome
3:10pm – Benton Heyworth, MD, – Pediatric and Adolescent ACL Tears and ACL Reinjury Prevention
4:15pm – Cara Lewis, Neuromuscular Control of the Hip
5:30 – 6:30pm – Meet with vendors
7:00 pm- Dinner
Saturday June 17, 2017
7:00 – 8:00 am Registration
8:00 am – Dai Sugimoto, PhD, ATC – Evidence-based Anterior Cruciate Ligament Injury Prevention Strategies: Translation of Research
9:05 am – Jennifer Parent-Nichols, DPT – Education is a Team Sport. Identifying and Employing Best Practice for Students Returning to the Classroom after Concussion
10:10 am – Amanda Nicoles MA, ATC – The Transgender Athlete – What do you Need to Know?
11:20 am – NH, VT and ME State Meetings
12:30 pm – Lunch
2:00 pm – Adam Androlia, MD – Concord Orthopedics, Using Ultrasound in Diagnosis of Musculoskeletal Injuries
3:05 pm – Molly Paturzo, MS, ATC, OTC – Athletic Trainer in the Physician Practice setting, you can get there from here.
4:05 pm – Closing – NHATA President Ben Towne
Saturday Breakout Sessions (limited to first 12 sign-ups)
8:00 am – 9:30 am – Ross Childs, DPT, Session 1 A Combined Manual Therapy Approach for the Treatment of Soft Tissue Dysfunction A simple and combined manual therapy approach to inhibit pain and facilitate function
9:30 am – 11:00 am – Ross Childs, DPT, Session 2 A Combined Manual Therapy Approach for the Treatment of Soft Tissue Dysfunction A simple and combined manual therapy approach to inhibit pain and facilitate function
1:00 pm – 3:00 pm – Tim Redding, NR-P, I/C – 21st Century Airway Choices for the Athletic Trainer
Accommodations
La Quinta Inn
21 Front St., Manchester, NH (attached to events center)
Special Pricing $119/night (includes free breakfast)
Call 603-669-5400 and ask for NE Athletic Trainers' Conference rate
Good up to 3 weeks before event on May 26th
Sponsors